WELCOMING THE SUMMER
New Arrivals Summer Flowers
A warm welcome to our Church of St. Mary the Virgin. Our mission today is exactly the same as it has been since Godwin The Priest ministered here in 1066. It is to serve God and the villagers and visitors to Fawsley. We want to do this better and have created a vision and growth plan.
We look forward to seeing you whether you are looking just for a place for quiet contemplation, to join us at one of our regular services, to celebrate a Wedding or Baptism (See a service with the choir here )or just to enjoy the beautiful building. So just drop in.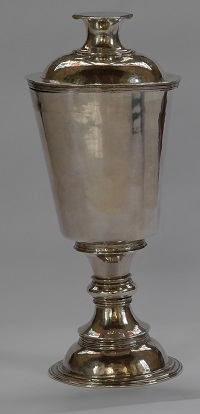 Together with our neighbouring parishes of Charwelton, Badby, Newham and Preston Capes we form the Knightley Benefice which is led by our Vicar. There are several services every Sunday within the Benefice with differing styles of worship. We also come together regularly as a Benefice to hold a United Benefice Service ("UBS") in one of our village churches. In Fawsley we normally have a service at 9:15am on the second Sunday and 11:00am on the fourth Sunday of every month. (See the panel on the right for the latest service details as these can change from time to time.) The service we normally have is Holy Communion according to the traditional Book of Common Prayer ('BCP'). This little silver chalice which we still use in our services to share the Communion wine was given to the Church by Sir Edmund Knightley on publication of the first BCP in 1585.
You can find out more about Fawsley and the history of our church in the book "The Fawsley Seasons" by Bill James which has been published to the internet as http://fawsleyparkdiary.co.uk .